The REVIEWS are in...
I found Work It Towels through the Orangetheory community and I'm so thankful I did.  If there's one thing I'd like to get across is that there are people behind these towels. People who aren't just selling to make money but make friends, create a community, provide an outstanding product, and bring happiness to the world, one towel at a time.

⭐️⭐️⭐️⭐️⭐️

Liza from Old Bridge, NJ
Work It Towels are the best towels for working out. They are so soft. I sweat a lot, and no matter how many times I wipe my face with this towel, my face never hurts!  They are amazing!

⭐️⭐️⭐️⭐️⭐️

Christina from San Diego, CA
Wow!  I love these towels!  After working at an indoor cycling studio, I know to bring my own towel when I go to spin class.  I don't want to risk staining the studio towel with make-up!  My WIT really absorbs all my sweat during class and is just the right size to throw over my handlebars during my ride.  These towels are perfect!

⭐️⭐️⭐️⭐️⭐️

Sherry from Thousand Oaks, CA
LOVE my towel. Received this as a gift, and I will definitely be ordering more. This is the softest gym towel I've ever used. Love that this company supports nonprofits too.

⭐️⭐️⭐️⭐️⭐️

Lisa from Virginia
I absolutely love this super soft absorbent towel, and it reminds me of my badass army niece!

⭐️⭐️⭐️⭐️⭐️

Katherine from Garrison, New York
LOVE this towel! It stays soft, fresh and green. The colors don't fade, and I think I've washed it 50 times already!

⭐️⭐️⭐️⭐️⭐️

Kim from Houston, Texas
Buying more for family and friends. These towels are SO soft, and I LOVE the designs.

⭐️⭐️⭐️⭐️⭐️

Nicole from Omaha, Nebraska
LOVE my towel. Cute, SOFT, exactly as advertised. Thank you!

⭐️⭐️⭐️⭐️⭐️

Shannon from Las Vegas, Nevada
Perfect Peloton towel! Let's start by saying every towel design is amazing, but if you like things to match and look aesthetically pretty on your bike, the RIDE towel is definitely for you.

⭐️⭐️⭐️⭐️⭐️

Ruth from San Marcos, California
What's our story?
We noticed everyone (including us) bringing old, gross, uninspiring towels to the gym. We decided to change it up with motivating, premium quality, buttery soft, fitness towels. (Don't be surprised if friends want to feel your towel-it's that soft!).
Our mission is to inspire every body to move, and proceeds from the sale of our original designs benefit important nonprofits like the Anxiety & Depression Association of America because mental health is just as important as physical health.
Work It Towels was a featured brand for the 2022 Hollywood Oscars Secret Room Gifting Suite.
Shop All Designs Now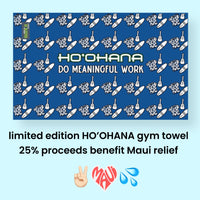 Our hearts are with Maui
 "Helping one person might not change the whole world, but it could change the world for one person." -Anonymous   
The people of Lahaina have endured the deadliest wildfire in the United States in over a century.  Our hearts and prayers are with these families.

The Hawaiian word "ho'ohana" means to do meaningful work, creating value and purpose in all that you do. In this spirit, we are sharing 25% of the proceeds from the sale of this design to benefit Maui Relief. 

We sincerely appreciate your support.  
SHOP HO'OHANA
Personalized Beachin' Towels
Made with heart ❤️
Conquering CHD ❤️
Created to honor our Congenital Heart Disease warriors, families, & supporters.  CHD is the most common birth defect in the US & worldwide.  Proceeds from the sale of this design benefit Conquering CHD- Colorado.
Get yours HERE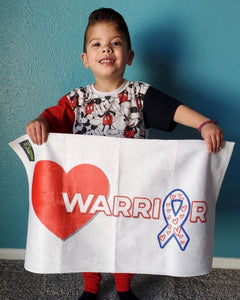 Hollywood Oscars Gifting Suite
Features