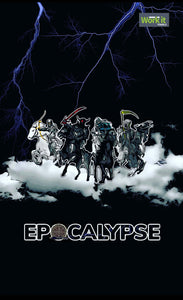 For the few and proud fitness warriors who are burdened with the glorious purpose of attaining the state of Excess Post-Exercise Oxygen Consumption (EPOC); there is first a reckoning and a crucible to endure.
Unsealing the seven daily challenges of each week will reveal a horseman whose purpose is to break your will. You may feel on the verge of being conquered, at war, enduring famine, or feeling near death. This towel will be your companion on this righteous journey of self-discovery and empowerment. You are never alone, we face these challenges with like-minded warriors and lift each other up. The light is darkest before the dawn and Together we will RISE!
Proceeds from the sale of this design directly benefit the Anxiety & Depression Association of America.  Thank you for your support.  
Our towel is handsewn, featuring a super soft, 100% microfiber poly-fleece top with edge-to-edge color. It is not a scratchy screen print. Instead, the fibers are dyed, providing vibrant color that lasts with daily use.  The reverse side of this towel provides 100% cotton terry loop backing that is soft and offers incredible absorption.  Can be machine-washed cool/warm, and tumble dry low.  Sized at 15" x 25," it's the perfect fitness accessory.