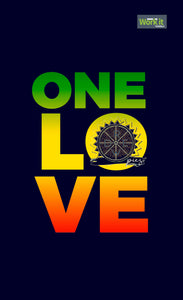 One Love is an expression of unity and inclusion. We are all on different paths and journeys. Love is the universal language that is understood and needed for all of us to be fulfilled and thrive.
Proceeds from the sale of this design directly benefit the Anxiety & Depression Association of America.  Thank you for your support.  
Our towel is handsewn, featuring a super soft, 100% microfiber poly-fleece top with edge-to-edge color. It is not a scratchy screen print. Instead, the fibers are dyed, providing vibrant color that lasts with daily use.  The reverse side of this towel provides 100% cotton terry loop backing that is soft and offers incredible absorption.  Can be machine-washed cool/warm, and tumble dry low.  Sized at 15" x 25," it's the perfect fitness accessory.