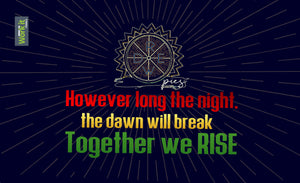 Inspired by African proverbs which align with our message to never lose hope and surround yourself with positive people who uplift you when you're down.
We all fall down individually but with faith and love, together we will rise.
Our towel is handsewn, featuring a super soft, 100% microfiber poly-fleece top with edge-to-edge color. It is not a scratchy screen print. Instead, the fibers are dyed, providing vibrant color that lasts with daily use.  The reverse side of this towel provides 100% cotton terry loop backing that is soft and offers incredible absorption.  Can be machine-washed cool/warm, and tumble dry low.  Sized at 15" x 25," it's the perfect fitness accessory.